Lee Classic Turret Press Videos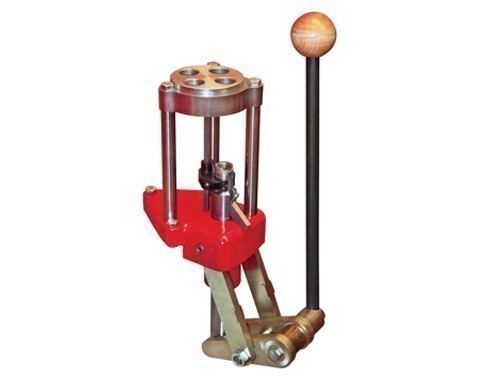 Back to Home Page
CAUTION!! You can get seriously injured while doing any of this if you're not careful! ALWAYS practice safe handling of all reloading components due to their toxic, flammable, and/or explosive nature! ALWAYS wash thoroughly after handling lead or ammunition! If you harm yourself in any way by using any of the information contained here, it's on you, not me.
The Lee Classic Turret Press
This five-part (well, six-part) series of videos shows you how to make your own ammunition ("ammo") on a Lee Classic Turret Press, without spending a fortune. At the time these videos were made, the Classic Turret Press can easily be found in stores and online for under US $100. Naturally, inflation has taken its toll, and the Classic Turret Press is now closer to US $160 as of 2022.

This is a re-do of the original series to correct some mistakes.

I dedicate this video series especially to those whose freedom is under attack, such as what is happening in states like California, New Jersey, Illinois, and similar places.

The example ammunition here, for most of the series, is .38 Special. The "Extra Part 6" shows .45 Colt (Long Colt), specifically my "Magnum" load, being made. That means you get to see the Double-Disk Kit in action, too, as this load uses a healthy charge of powder. These same procedures apply to virtually all other straight-walled handgun cartridges.

Direct Download Link - Part 1 (68 MB, 5:40)
Direct Download Link - Part 2 (138 MB, 10:45)
Direct Download Link - Part 3 (127 MB, 9:47)
Direct Download Link - Part 4 (129 MB, 9:48)
Direct Download Link - Part 5 (147 MB, 10:19)
Direct Download Link - Extra Part 6 (150 MB, 11:52)

And here we see Miss Mrs. B.H.C. reloading some .38 Special on the same press. At the time, it was originally set up for .45 Colt "Magnum", from when we had done the original video series. All she did was swap turrets, the shell holder, and the Safety Prime parts, which took about one minute. This is her first time ever using the Classic Turret, so it's a good example of the press's user-friendliness to newbies.

Direct Download Link (142 MB, 11:12)



All videos are 720x480 wide-screen (16:9 ratio) and use the patent-unencumbered Ogg Theora format. This is the same format used by Wikipedia for all their multimedia clips.

To watch the videos, just click on them. To download them for later viewing, just right-click on the video you want to download and choose "Save Link As" to save it to your hard disk.

Now, to play these videos, you've got a couple of choices here:
Either one of these will work. Then, open each "Direct Download Link" below and save to your hard disk.


OK now, what's the subject material, and why should you care?
Several folks have asked about turret presses recently. They don't want to deal with the complexity of a fully progressive press, but they also don't want to spend two hours making a box of ammunition. They also want something that will not break the bank, but will be a good, all-around tool that will last a long time.
So-called "turret" presses fill that role very well. They've been around for years and do a fine job. What they do is take the familiar action of a single stage press and streamline things, so that the reloader no longer has to spend time changing and readjusting dies. The modern versions also allow the reloader to prime directly on the press, without skipping a beat. They also allow the operator to simply swap out the entire turret in order to change dies for a new cartridge (e. g. .44 Special to, say, .30-06 Springfield or 9mm Parabellum). With these improvements to the reloading process, the rate of ammunition production more than doubles.
The press used here is the four-station "Lee Classic Turret Press" from Lee Precision, Inc. Lee makes two versions of turret press, the "regular" Turret Press and the cast-iron "Classic" Turret Press. The regular Turret Press works just fine, but the Classic Turret is definitely a step up and worth the few extra dollars in my opinion. Street price for the Classic Turret, as of the year 2010, is just under $100 US. If I could buy only one press, this would probably be it. The only finicky part of it is setting up and adjusting the optional Safety Prime. However, once the Safety Prime is set up, it works very well.
In light of the EVIL new ammunition laws in California, especially Proposition 63 (a continuation of the effort of the overturned and just as EVIL AB 962), this video series is dedicated especially to those who believe in freedom and will fight for it. The best defense, along with electing pro-freedom politicians, against ANY such EVIL policy is for as many shooters to start handloading as soon as possible. The more people do it, the more afraid the anti-freedom politicians will be of getting voted the heck out of office for opposing it.
There will always be anti-American forces lurking, waiting, to attack and eliminate our freedoms guaranteed under the sacred document that is our Constitution. We must fight them at every turn and not--ever--give even a millimeter when it comes to freedoms guaranteed thereunder.
As always when reloading, when things don't go exactly right, remember to STOP, CHECK, DOUBLE-CHECK, FIX, and only then, resume IF SAFE TO DO SO.
Back to Home Page
NOTICE: We are not affiliated in any way with Lee Precision, Inc. We just happen to like some of their gear. Any product questions should be referred to Lee Precision, Inc. All relevant trademarks are reserved by their respective companies.