Lee Pro 6000 Progressive Press Videos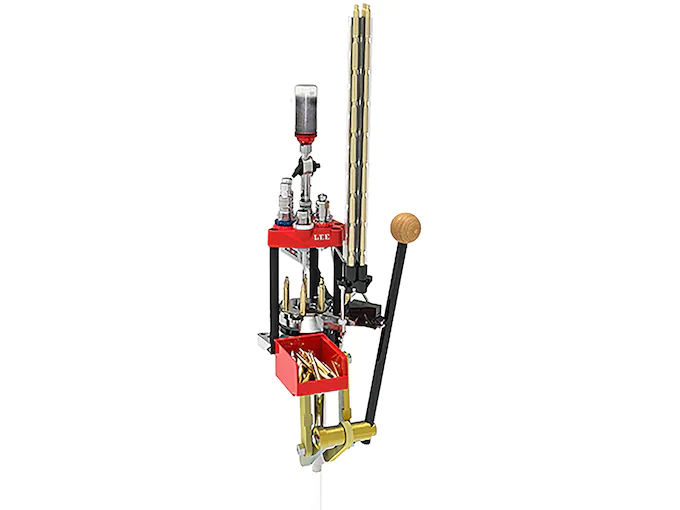 Back to Home Page
CAUTION!! You can get seriously injured while doing any of this if you're not careful! ALWAYS practice safe handling of all reloading components due to their toxic, flammable, and/or explosive nature! ALWAYS wash thoroughly after handling lead or ammunition! If you harm yourself in any way by using any of the information contained here, it's on you, not me.
The Value of Progressive Presses in General

This two-part series explains why I believe that, after plenty of experience in single-stage reloading, a progressive press has a lot of value on your reloading bench, too. Here, you see the results of 57 minutes of reloading--300 rounds of .45 Colt. And I could've gone faster had I chosen to do so. That's why there's a market for progressive presses; they save lots of time.

While a Lee Pro 1000 is demonstrated here, any of the progressive presses from any of the major manufacturers are capable of yielding similar results.

Direct Download Link - Part 1 (28 MB, 1:50)
Direct Download Link - Part 2 (137 MB, 8:15)


Making Ammunition on a Lee Pro 6000 Press

Coming very soon!
The Lee Pro Auto Disk Powder Measure - How It Works

At present, there are two automatic powder dispensers that Lee Precision makes. The first is the Pro Auto-Disk Powder Measure, first seen on the Pro 1000 series of presses. Naturally, it works exactly the same way, and just as well, on the Pro 6000 press. I've been using, and liking, this powder measure for quite a few years.

In this two-part video series, we show you all there is to know about the Pro Auto-Disk Powder Measure. We take it apart, put it back together, and show you how to set it correctly. We also show you how to use the optional Double Disk Kit for the larger amounts of powder, e. g. powder charges for .44 Magnum, .454 Casull, .308 Winchester/7.62 NATO, and so on.

Direct Download Link - Part 1 (170.3 MB, 15:52)
Direct Download Link - Part 2 (203.1 MB, 18:48)


The Lee Auto-Drum Powder Measure - How It Works

This is Lee's other style of automatic powder dispenser and the one that comes standard with both the Pro 4000 and 6000 kits. The Auto-Drum Powder Measure has certain advantages, and a caveat or two, when reloading progressively with it. We take it apart, put it back together, and show you how to set it correctly.

Coming very soon!



All videos are 720x480 wide-screen (16:9 ratio) and use the patent-unencumbered Ogg Theora format. This is the same format used by Wikipedia for all their multimedia clips.

To watch the videos, just click on them. To download them for later viewing, just right-click on the video you want to download and choose "Save Link As" to save it to your hard disk.

Now, to play these videos, you've got a couple of choices here:
Either one of these will work. Then, open each "Direct Download Link" below and save to your hard disk.


OK now, what's the subject material, and why should you care?
This page focuses on videos about the Pro 6000 Progressive press from Lee Precision, Inc. and how to handload/reload common handgun ammunition.
I'm generally a fan of the reloading presses from Lee Precision, Inc. The reason isn't that they're the "Rolls-Royces" or "Cadillacs" of the reloading world (well, maybe their Classic Cast or Classic Turret qualify). Rather, it's because they're good presses which are actually affordable by mere mortals like me. The Pro 6000 gets the video treatment here because, due to its relative affordability, the Pro 6000 provides a whole lot of "bang for the buck" to the reloader.
With its six stations and improved automatic priming mechanism, there are things that you can do on this press that even my beloved Pro 1000's cannot do, such as seating the bullet and crimping the case separately, as some prefer to do, especially with certain compressed loads. Also, you can post-size the case on this press with the Lee Factory Crimp die, which I find very handy for .45 ACP when reloading with my own cast bullets. There are likewise reloaders who prefer to use a so-called "Powder Cop" die, which ensures that the powder drop into the case was actually successful, to avoid dangerous "squib" loads. I've learned over the years to trust the Pro Auto-Disk Powder Measure. In well over 100,000 rounds, it has never, ever let me down. However, some people prefer the extra peace of mind that the Powder Cop dies give, and for that reason, RCBS's Powder Cop die is installed on our Pro 6000 press as well.
ALL progressive presses have their quirks. Yes, that means the Dillons, the RCBS's, the Hornadys, and so on, including the Pro 6000. Our goal here is to show you the quirks specific to this model of press so that you, too, can turn out 5 to 6 complete boxes of ammo every hour.
Back to Home Page
NOTICE: We are not affiliated in any way with Lee Precision, Inc. We just happen to like some of their gear. Any product questions should be referred to Lee Precision, Inc. All relevant trademarks are reserved by their respective companies.